Is Dutch not your native language, but would you like to speak this language good or even better?
Do you want to have extensive vocabulary knowledge very quickly and be able to learn correct pronunciations? Follow the Dutch course for Foreigners.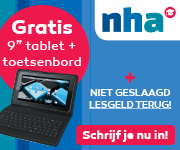 Free 9" tablet + keyboard

The Dutch Course for Foreigners is definitely ideal for foreigners who would like to learn the Dutch Language swiftly and better.
The emphasis is on active and practical language usages, not on grammar.
You will learn Dutch language just like how you have learned your own mother tongue: Step by Step.
Dutch as second language? Follow the course Dutch for foreigners